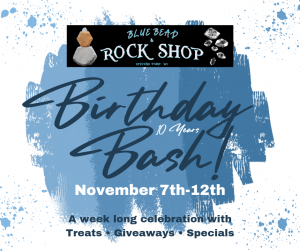 Blue Bead & Rock Shop offers the finest beads & rocks from around the world.
Come see Wisconsin's largest selection of Tumbled Stone!
 We are a rock hound family that goes digging all across the country, bringing back what we find, to you!
ROCKS…  ~Amethyst: Georgia & South Carolina  ~Angel Wing Agate: Oregon  ~Calcite Clams: Florida   ~Champagne Topaz: Utah  ~Copper: Michigan  ~Dugway Thundereggs: Utah  ~Epidote: Colorado  ~Fluorite: Illinois  ~Green River Fish Fossils: Wyoming  ~Herkimer Diamonds: New York  ~Keokuk Geodes: Iowa  ~Lake Superior Agate: Michigan, Minnesota & Wisconsin  ~Quartz: Georgia, South Carolina & Arkansas  ~Rainbow Petrified Wood: Arizona  ~Shark Teeth Fossils: Florida  ~Sunstone: Oregon  ~Tourmaline: Georgia  ~Trilobite Fossils: Utah.   ~Electric Blue Moonstone: Wisconsin.  We also hand pick rock from different vendors from all over the world, and just to name a few… Amethyst, Ammonite, Apatite, Bismuth, Charoite, Citrine, Dendrite, Fossils, Labradorite, Malachite, Megalodon Teeth, Meteorite, Moldavite, Permineralized Wood, Petrified Wood, Peridot, Pyrite, Quartz, Rainbow Garnets, Rose Quartz, Specular Hematite, Tektite, Tourmaline.
From our Rock Family to yours, Thank You we couldn't do it with out you!!!  Point Proud ~Blue Bead Rock Shop
BEADS…  Czech Glass, Gem Stones, Swarovski Austrian Crystal, Freshwater Pearls, Vintage, African Trade beads, Wood, Bone/Horn, Porcelain/Ceramic,  Artist hand made items, Cording, Tools , Made in the USA Supplies, Books, and Magazines. We offer many services to our community like, Repairs, Custom Designs and Classes.
Bead Shop? Rock Shop? What Shop? This Shop!
Dates the store will be closed & limited hours.
2022 Calendar Year
1/1 New Years Day ~ OPEN 10-4
5/30 Memorial Day ~ Closed
7/4 Independence Day ~ Closed
11th of August ~ Closed
9/5 Labor Day ~ Closed
24th of November ~ Closed
24th of December ~ 10-5
25th December ~ Closed
12/31 New Years Eve ~ OPEN 10-4
2023 Calendar Year
1/1 New Years Day ~ Closed
Follow link below to learn more about Central Wisconsin's Rock Club
Heart of Wisconsin Gem & Mineral Society
Follow link below for more information and events of Downtown Stevens Point